Menorca, the perfect place to admire the sky at night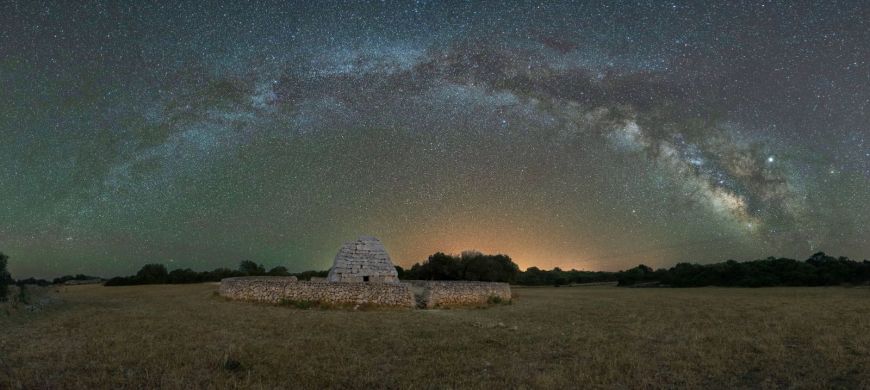 Since 2019, Menorca has been awarded the Starlight destination and reserve distinction
What does this term mean? Basically, that the island has been considered as one of the best places in the world for observing the celestial vault. The low light pollution and the clarity of the environment make the Menorcan night sky the best opportunity to discover the cosmos with the naked eye. Although this distinction, awarded by the Instituto de Astrofísica de Canarias (IAC) through the Starlight Foundation, is not exclusive in Spain, it is the only one that has been given in the Balearic Islands.
Starlight Destination and Reserve
A Starlight tourist destination is a protected natural space, which acquires a commitment in favor of defending the quality of the night sky and access to starlight. Obviously, there are places in Menorca where observing the night sky is much more spectacular than in cities and towns, where artificial light fulfills the function of illuminating spaces and streets. Places like the north coast of Ciutadella, become an ideal enclave for observing the cosmos. And it is easy to find companies and tour guides who discover the wonders of the night sky in summer, when phenomena as magical as the Perseid rain, or tears of San Lorenzo, take place in mid-August. This meteor shower is the most popular of the summer, and Menorca is the ideal place to observe it with the naked eye.


What to see thanks to the Menorca Starlight?
A moonless night on a beach like La Vall is already, in itself, a magical experience that connects the human being with the immensity of the Universe. But to have a complete Starlight experience, we recommend booking a night tour with one of the companies that offer this type of service. If you have questions, ourconcierges they will be able to guide you. These are the astronomical phenomena that you can observe in the sky of Menorca.
Rain of Perseids or Tears of San Lorenzo. This meteor shower, which is repeated every summer, is a magnificent event to see the activity that, without realizing it, occurs on our planet. Mid-August is when this meteor shower becomes more intense, with up to 70 observations per hour.
The moons of Jupiter. In this 2021, and also during the month of August, some of the moons of Jupiter will be easily visible. Of course, with the help of a telescope or binoculars.
Planets at a glance. During the summer there are some planets that also shine with special intensity. This is the case of Saturn and Jupiter, in August; and Neptune on September 14.
The Milky Way. One of the most overwhelming phenomena when observing the nocturnal vault is to discover in it the very center of our galaxy. The Milky Way is easily observable in the Menorcan sky, as a trail of clear clouds in a clear sky.
During the year, it is possible to observe other phenomena that astronomy fans have written down on their calendars. And that you can discover from the hand of Can Faustino.